Encouragements du Pays de Galles



Encouragements d'Espagne



Encouragements de Hollande



Encouragements du Canada



Encouragements d'Australie



Encouragements d'Angleterre



Encouragements des USA



Encouragements d'Ecosse



Encouragements d'Allemagne



Encouragements d'Italie



Encouragement de Puerto Rico


Encouragements du Pays de Galles :
Messieurs,
Bonne chance pour le 6 Octobre
Alun John Richards
Mail : alun.richards6#ntlworld.com Site : www.richards-slate.co.uk
Tel : 01792 202575 07977545729

Good luck : Stop the wind turbines
City & County Councillor Ioan M. Richard
23, Mountain Road, Craigcefnparc, Swansea SA6 5RH
WALES, British Isles.
Tel 01792 843861 Mail : ioan.richard#swansea.gov.uk



Mes Amis,
Bon chance pour le 6 October!
We will be thinking of you and wishing we could be with you.
Cordialement,
Janet Moseley
Save Our Common Mountain Environment - Swansea Mail : janmoseley#supanet.com

Dear Sir,
We in Cardigan , West Wales [Pays de Galles ] support the brave fighters of France in their battle against ugly , useless wind turbines which will ruin the landscapes of "La Belle France". STOP the wind turbines!!!
Allez France!! Formidable!!
Au revoir,
Mr Lyn James Jenkins
Cardigan Island Coastal Farm Park,
Gwbert,Cardigan.Wales. Site : www.cardiganisland.com

I wish you every success in your battle to prevent worthless wind turbines from blighting the magnificent landscapes of France.
"Allons enfants"
Dr John Etherington
Llanhowell - Pembrokeshire - Wales Mail : eth.pbont#virgin.net

VIVE la FRANCE!!
EGALITE FRATERNITE LIBERTE
Felicitations
SWANSEA Pays De Galles Mail : norperrott#hotmail.com

Good luck to you all. We need to fight windfarms globaly, we in Wales are behind you 100%.
Pob Lwc i chi.
Lynwen Evans, Mydroilyn, Lampeter, Wales.
On behalf of the Rhos Garn Wind Farm Action Group Mail : Brynoilyn#aol.com

To all French Wind Protestors
We are with you all in spirit. Industrialising your wild places with wind turbines will not have any effect on climate change. The politicians just want another way of controlling us.
France is too beautiful to let this happen.
Bon Chance mes amis
Jenny Keal
Aberedw, Mid Wales Mail : jenny#davidbellamy.co.uk

I write from Wales ,known in France as Pays de Galles.
I wish to express my solidarity with the brave wind farm protestors of France. Good luck to you all !!!
I vociferously object to wind farms in your beautiful countryside. As a tourism operatorin Wales, I can tell your Government that these gigantic ugly wind turbines will ruin French scenery and thereby greatly damage the tourist economy of France. The wind turbines will cost France MILLIONS of Euros in lost income every year.Don't your politicians realise this? Who will want to travel to France to view these monsters on your beautiful unspoilt hills ? No-one!!!
We, here in Cardigan ,Wales are also fighting politicians who lack common-sense. We have our own petition on www.cardiganisland.com/petition.
Bon chance!!!
Ellen Elizabeth Jenkins Mail : clynyrynys#btconnect.com
Cardigan Island Coastal Farm Park, Gwbert, Cardigan, Wales, UK Site : www.cardiganisland.com

I am Joanne Sian Jenkins from Cardigan, Wales ,UK. I wish to lend my support to the French people who are protesting against monstrous wind turbines across the beautiful countryside of France. I work in international tourism in London and know for a fact that these monstrous whirling machines are bound to ruin stunning scenery for a twenty mile radius around them. They destroy the NATURAL land-scapes which visitors want to see. So they will severely damage French tourism. We already support French tourism with our web-site www.eiffel-tower.co.uk . Don't let short-sighted politicians destroy France.
Vive La France!!!
Mail : clynyrynys#btconnect.com

We wish you luck with your efforts - this spread of industrial wind turbines has to be stopped somehow before our landscapes are destroyed.
Caroline Evans Mail : carolineevans1#yahoo.co.uk
Brechfa Forest Energy Action Group
Carmarthenshire, Wales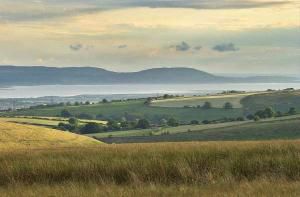 Bonjour, we in Wales salute you for making a stand against these massive, industrial monsters called wind turbines. You have so much support here in Pays de Galles. We wish you bon chance . We wish you every success and hope you will be able to influence your politicians that these steel aliens will have no chance in altering climate change and produce an insignificant amount of energy. while destoying massive areas of precious landscapes forever. I attach a photograph of part of our beautiful countryside that is under serious threat of the turbine invasion here in South Wales.
Why does France need wind power when they have so much other sources of energy?
Ceinwen Rees Mail : kay-rose#tesco.net

Dear Friends, Many hundreds of residents in Wales join with you to oppose the destruction of landscape in beautiful parts of Frence. International companies are roaming our hills tempting farmers with promises of cash against the wishes of most people living in the uplands of our country.
We join with you in demonstrating against an industry driven by large profits with no interest in the landscape it is destroying.
Ann West Mail : annwest#gofornet.co.uk
mid-Wales


Encouragements d'Espagne :


Les victimes de la "marée noire" de l'éolien industriel en Espagne expriment leur solidarité avec les victimes françaises ( présentes et futures ) et enverront un représentant à la manifestation du 6 octobre à Paris.
signé: IBERICA 2000
Mail : save.the.eagles#gmail.com Site : www.iberica2000.org


Encouragements de Hollande :
Chère Amis,
Toutes les "Don Quichottes" de Hollande souhaitez vous une manifestation grande et réussi. La guère contre les éoliennes industriel est une guère mondial.
Avec des salutants cordiales
Jim Mollet, président NKPW Hollande
Site : www.nkpw.nl


Encouragements du Canada :


The T-Rex of the 21st century is the the wind turbine. Like the T-Rex it is a predator of birds & landscapes. This gathering of protesters is like the event the wiped out the dinosaurs, it will be the end of the Turbinecus Rex
Al Taylor, Director, CORT Mail : hallantaylor#sympatico.ca Site : www.cort.ca


Encouragements d'Australie :
Dear People,
Please keep the faith and continue the fight against wind turbines ruining landscapes, stressing people with the noise and killing birds and bats.
There is a solid anti-turbine movement in Australia, as the facts and figures prove wind energy is costly, and ineffectual in reducing greenhouse gas or fighting climate change.
All power to the people and good wishes to you all.
Yours faithfully
Yvonne McRae Mail : eviemac#dcsi.net.au
Wonthaggi, Victoria, Australia

To all involved in the anti wind farm fight world-wide - we encourage you all to keep up the good work as we all know how inefficient, and expensive this outmoded form of renewable energy is - in Australia it is purely an incredible of politics and money - green votes for our governments and buckets of money for those participating landholders - no consideration for those who have to live adjacent to them and have their lives and livelihoods greatly affected by them with no compensation.
from ANNIE and GUS GARDNER Mail : brockvilleultrafine#bigpond.com
Penshurst, Victoria Australia fighting the Macarthur windfarm in south-western Victoria

Wildlife in Australia under Threat from Wind Farms
Dear wind farm protestors,
As in France, Australian wildlife and natural landscapes that attract visitors from around the world are also under threat from wind farm developments. Unfortunately we all need to demonstrate against the ideologically driven vandals who pretend to have an interest in the environment.
We will keep up our fight to save our wildlife in Australia as you will continue to do in France. All the best in your campaign to save the French wildlife, landscapes and the rural way of life and congratulations on organising the demonstration.


The critically endangered Orange-bellied Parrot is threatened with extinction because of government approved wind farms across its south eastern Australian coastal range.


The threatened southern Brolga population is a risk of being wiped out in western Victoria from more than 20 wind farm proposals throughout its habitat.


A Wedge-tailed Eagle severly injured from a collision with wind turbine blades. It had so many injuries that it had to be euthanaised. The Wedge-tailed Eagle, which is one of the largest eagles in the world is slaughtered by wind farms on a regular basis with the approval of Federal and State Governments.
Regards
Andrew Chapman Mail : andrewandmarion#bigpond.com
Wildlife Conservationist
2 Beach Avenue, Inverloch, Victoria, Australia 3996

Wind Power Stations cause the same problems everywhere they go in the world. Residents rights are trampled, effects on bird life are ignored and landscapes are trashed. Keep up the fight, those of us over here in Oz are supporting your efforts.
Trixy Allott Mail : trixy#net-tech.com.au

The members of DARN support your efforts to stop the insane spread of wind turbines throughout the world. We know that you are the best protestors in the world and are sure that you will be successful in you efforts to stop the destruction of your fantastic landscape and not allow the madness of 'wind power' to destroy FRANCE.
Craig Falconer Mail : kathcraig#dcsi.net.au
Dollar Affected Residents Network (DARN) - South Gippsland, Victoria, Australia

Good luck with your demonstration. In Tasmania, Australia, Wedge-tailed Eagles - an endangered species - are being killed by turbines collisions at a windfarm in the NW of the State. Even in its infancy this windfarm is responsible for a probable 10 mortalities - the last one killed was earlier this month. Bats are being killed also. The Science as to exactly why windfarms are so lethal to bats is still at an early stage, though several factors maybe at work to produce the huge number of kills in the USA and Germany. In the NE of Tasmania a windfarm of over 40 turbines is soon to be constructed, yet 11 of these turbines are to be placed in the flyway of wading birds and wildfowl. Even the consultants admit that these 11 turbines will be placed in what they refer to as a 'bird sensitive area' where alienation effects are likely to be as important as mortalities. Still, the landowner will collect $300,000 per annum!
Ralph & Barbara Cooper Mail : rabacooper#bigpond.com
7 Beach Road, Legana, TASMANIA 7277 Australia

We have been fighting these useless monsters for over five years in Australia. The industry does not care what damage it does to communities, to peoples lives, to tourism or other activities. They want to maximise their spread of wind turbines at all costs and will show no mercy. They have been extremely successful in aligning themselves with "saving the planet" and equally so at achieving broad accedptance of the hugely exaggerated claims they make for reductions in greenhouse gases which supposedly follow from the use of wind power. We wish you bon chance and will be keenly following your progress.
Reg Brownell Mail : brownell#bigpond.net.au
Melbourne

I believe there's a huge movement against wind turbines in France, yet Australia is just starting to take them on board! We are facing having them put alongside 2 wetland/bird sanctuary areas where I live. I do Not believe they are the value we've been led to think they are. Landscape, seascape, birds, vegetation & wildlife have to be protected too - who speaks for them?
Jill McCulloch Mail : jillsy#dcsi.net.au
Victoria, Australia


Encouragements d'Angleterre :


If the wind industry gets its way, ancient skylines across the world will be transformed into restless horizons – the beautiful varying landscapes of our planet reduced to a common denominator of gigantic industrial units. There surely can be nothing more important than to protect our rural heritage for present and future generations from such grossly destructive and pointless industrialization. We salute and thank our friends in France for inviting us to join them on this historic day. Hundreds of us will be with you in spirit on Sunday the 6th. We send our heartfelt wishes for your great success. United we stand - we shall fight on together as we have done during the past years.
Vive La Belle France!
Angela Kelly Présidente de Country Guardian. Mail : amk#clara.co.uk Site : www.countryguardian.net

"Showt" une association qui se bat contre une proposition pour sept eoliennes industrielles pres de son village dans l'est de L'Angleterre vous souhaite la bonne chance pour le six octobre!
les projets eoliens sont une atteinte inadmissible aux paysages de la France et de l'Angleterre.
Melanie Hook Mail : melaniehookuk#yahoo.co.uk



Quatre villages en Norfolk, Angleterre, qui luttent contre une proposition pour turbines eolienne au coeur de nos villages, vous souhaitent bonne chance pour le 6 octobre.
Lucy Melrose Mail : notdrp@btinternet.com

Dear protestors,
Sorry I dont speak French. However, I do speak NO ONSHORE TURBINES!!! This is becoming a universal language I think.
I wish you all the best for your protest.
Julie Parker Mail : juliepar5@yahoo.co.uk
Hempnall, Norfolk, England

Why do politicians continue to support these machines which generate money for developers but do not contribute to reduction in CO2 ?
I wish you all success in your demonstration on 6 October.
Brian Trueman Mail : brian@btrueman.fsnet.co.uk
Somerset

Hello, I am just wishing to add my name as a supporter of your campaign against Onshore Windfarms. I live a a pretty village called Hempnall in Norfolk, England which has a windfarm proposal in place and feel it would spoil a tranquil setting. Good luck on 6 October. We are all with you in spirit.
Debbie Ashford Mail : debbieashford925@btinternet.com
Hempnall, Norfolk

Aldridge Lansdell Mail : longstratton@aldridgelansdell.co.uk

Mes Amis,
Je voudrais vous envoyer toute ma sympathie pour la manifestation a Paris,Samedi 6 Octobre. J'aime la beaute des paysages francais specialement le
cote sauvage des montagnes. Je vous souhaite bonne chance et je serai de tout coeur avec vous.
David Bellamy
Peintre des montagnes
Mail : david@davidbellamy.co.uk


Encouragements des USA :

Industrial-scale wind energy is widely promoted as a clean and sustainable source of energy. It brings, however, many negative impacts of its own. Of most immediate concern for communities targeted for wind power facilities is their huge size, unavoidable noise, and strobe lights day and night, with the consequent loss of amenity and, in many cases, health.
For people concerned with the environment, the adverse impacts of the giant machines and their supporting infrastructure on bird, bats, beneficial insects, and other wildlife both directly and by degrading, fragmenting, and destroying habitat are a growing concern.
With these and other adverse impacts, the construction of industrial wind energy facilities in most places cannot be justified.
Site : http://www.wind-watch.org/

Please add our names to the list of vocal opponents of industrial wind turbines. Big Wind's inability to delivery efficiency, reliability and predictablility place it are the nonfunctional alternative energy forefront. Wind systems need support energy systems, be them solar, geothermal, coal or nuclear. The risks of Big Wind far outweight the benefits, at least for sitings among residents of rural upstate New York, USA. Let's place our energies and imaginations behind other ideas; industrial wind turbines are a corporate farce.
Tara & John Collins Mail : tarajohn119@delhitel.net
Meredith, NY USA

Thank You
Thank you for standing up in support of rural people everywhere. This march of protest will be hailed by all of us here in the U.S. who have fallen prey to the industrial corporations and their bid to turn the earth into a giant pin cushion. Once again the people of France show the world the path of the true patriot. Viva La France! Viva La Terre!
Down with the eco-thieves who would profit on the good will of all mankind.
Robert Lucas Mail : lufolk@bright.net


Encouragements d'Ecosse :
Je suis Ecossais : le patrimonie naturel de notre pays est en train d'etre ruiné a cause d'eoliennes mal placées. La demonstration que vous faites 6 Octobre est tout a fait ce que nous devons faire devant le Scottish Executive a Edinbourg. On vous supporte dans l'esprit historique du Auld Alliance entre nos deux pays.
James Stuart, Moray, Ecosse et Le Paradou, France. Mail : JStuartEnt@aol.com

Bon Soir mes amis!
I am sorry to be unable to address you further in French but would like to send a message of strong support for your demonstration against wind power being held in Paris in October. I hope you are able to raise the profile of 'dissent' in a way which is both knowledgeable and irrefutable – good luck from all like minded people in Scotland……we have good reason to wish you well.
Best wishes,
Christine Metcalfe Mail : luanam@btinternet.com

Belle France
my continued and strong support for all protest made regarding the insanity of wind energy. It has become a monster. Your efforts are to be thanked and built upon. Stay strong in your efforts. The crimes the developers and the blinded supporters commit are on so many levels.
I will be with you in spirit on the 6th. along with many of us here in the Highlands of Scotland where we are facing so much environmental detruction to our wild land, our seabed, our coastal areas, our peatlands and loved skylines
Hazel Macmillan Mail : mercat.books@zetnet.co.uk
Muir of Ord, Scotlland


Encouragements d'Allemagne :
Je vous souhaite que votre démonstration contribue à faire cesser l'extermination des magnifiques paysages français.
Bernd Staudt Mail : b.staudt@intra-online.de Site : http://www.vmu-saar.de
Verband für Mensch und Umwelt Saar et Gegenwind Naturparkdörfer Hargarten

Bonjour, congratulation a votre activite de le Octobre 6
Heinrich Duepmann Mail : info@windstrom-kosten.de Site : http://www.windstrom-kosten.de

I like your idea of unification and wish you a big success.
Sorry, my French is almost not existing, therefore I try English. A very good approach to unify all forces country wide, I hope to see it one day at least Europian wide, since the same mafia all over the world uses the same false statements in order to maximize the profits for very few on the burden of many, without even asking for permition. The huge cake of tax driven money will motivate also people with "green" wall papers to distribute the fairy tales of a CO2 originated clima change. Stupid, Inconsiderate, ignorant, incomplete, incorrect, but efficient in their minds, so far. Our local landscape is already spoiled dramatically. Hope really that the wind changes soon and blows some cleaning gases through the brains of politician and supporting local services. Unforunately we do not need wind only instead a thunder storm or even better a hurricane is required to return the common sense into the debate. May your perseverance never end in reaching your/our goals finally.
For interested (German-language) have a look at www.wkaweg.de or contact via wkaweg@web.de when new movements or results are ready for spreading.
Wilhelm Uhlenberg, D-27252 Schwafoerden, Germany

Chers adversaires de l'industrie du vent, cher protecteurs du paysage en France!
La catastrophe qui est arrivée en Allemagne avec la destruction de paysages entiers par des parcs à éoliennes gigantesques et des éoliennes seules mais tout autant genantes ne doit pas se repeter en France et autres pays européens.
20.000 éoliennes géantes, qui ne tournent que de temps en temps, ont déjà partiellement détruit des paysages particulièrement beaux - surtout sur la cote et dans les montagnes - sans apporter un quelconque avantage efficace mesurable.
Les paysages francais sont trop précieux pour les sacrifier à une forme d'energie inefficace. Ils sont la patrie d'une population à qui on n'a pas le droit d'enlever un environnement familier depuis des générations.
Envoyez tous les politiques et profiteurs de l'energie éolienne en Allemagne ! Nous leur montrerons ce que les parcs éoliens provoquent: des paysages détruits,des gens malheureux qui ne peuvent plus vendre leur maison, des disputes dans les communes, des procès juridiques sans fin et des personnes qui ont perdu confiance dans la politique.
Avec les meilleurs voeux et salutations solidaires
Ferdinand Fürst zu Hohenlohe-Bartenstein, président de l'association Bundesverband Protection du Paysage Mail : hohenlohe-bartenstein@t-online.de

The sympathies of inhabitants of two small villages recently disfigured by giant wind turbines are with you: Herzberg and Rüthnick, located in Brandenburg/Germany. We hope your campaign will help us all to stop this nightmare.
Torsten Sandow Mail : tsandow@t-online.de
BI Gegenwind Rüthnick/Herzberg


Encouragements d'Italie :


Chers amis français qui luttez contre la diffusion des éoliennes géantes et horribles dans les plus beaux paysages de France et donc dans le monde. En Italie, depuis 2001 on a fondé le "Comité National du Paysage" qui a compris en avance le risque lié au choix éolien.
Nous vous souhaitons un bon succès à l'occasion de votre courageuse manifestation et on espère de parvenir à une coordination européenne pour faire arriver notre voix a Bruxelles.
Oreste Rutigliano, Vice-Presidente, Mail : info@cnp-online.it Site : www.cnp-online.net


Encouragements de Puerto Rico :